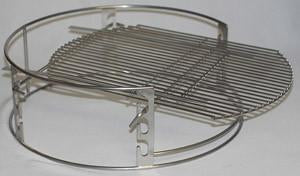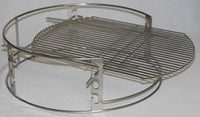 This oval cooking grid works in tandem with the Large Adjustable Rig.
We originally designed the 13x17 Oval Stainless Grid as a rib and brisket grid but found it works great as a standard cooking grid too. The Oval Grid fits inside the Large Rig for a second grid option. The Oval Grid sits atop the Large Adjustable Rig Extender for super raised grid cooks too. 
We recommend two Oval Grids when rotating food is key - 4 racks of ribs or bunch of chicken wings/parts. The 13x17 Oval Grid does not fit the Woo Rings. 
The Grid is actually 17.5" long and 12.875" wide. It's fabricated using 0.162 dia. EPQ Stainless Steel wire with electro-polish finish for improved performance and durability. The  EPQ wire and finish make it easier to clean the grid after each cook. The grid crosswires are compact (0.55" spacing) and can hold just about any type of food. Adjustable Rig pictured is not included.  
Made in the USA exclusively for CGS, Ceramic Grill Store. 
BJ's Country Market is your preferred shop in London, ON and area offering custom dry aged cuts, smoked meats, cold cuts, cheese, home cooked meals and much more!