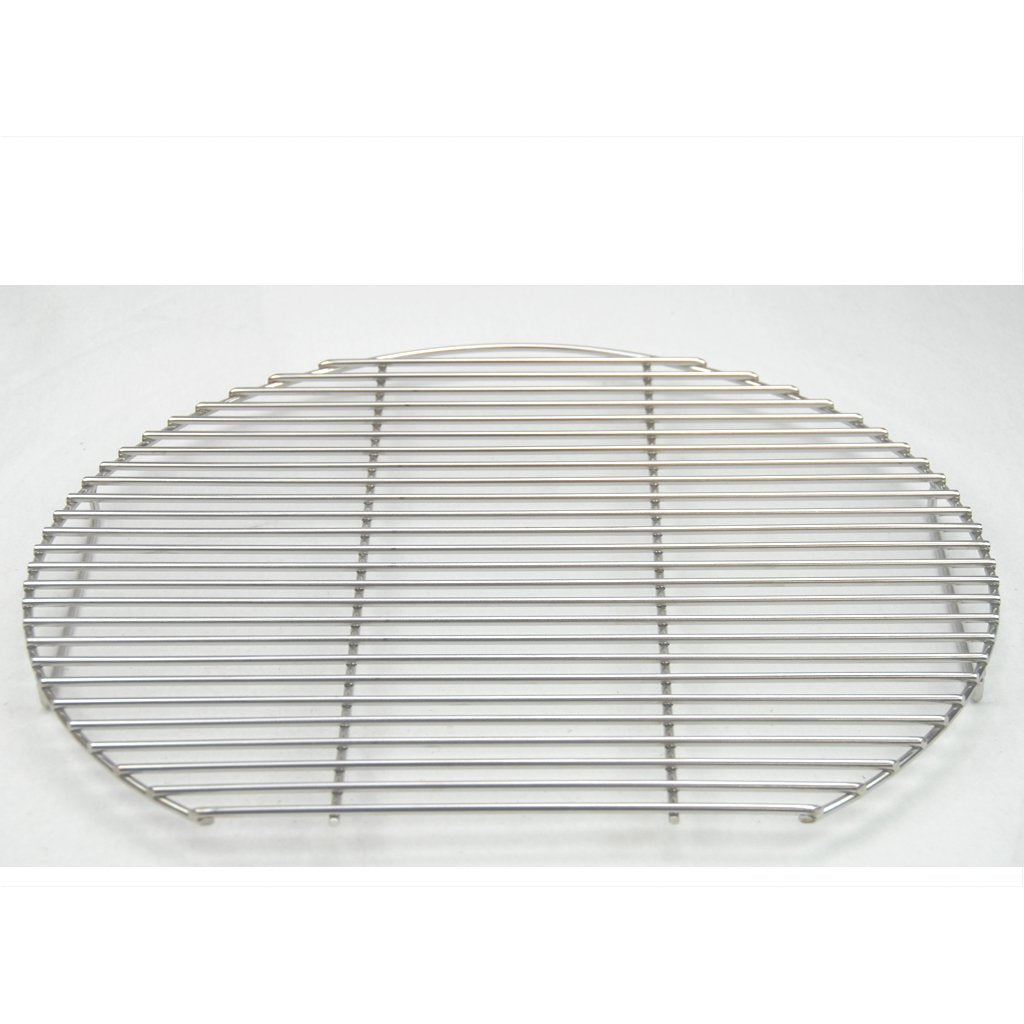 The 16" Sliding D Grid works in tandem with the Large Adjustable Rig, PSWoo and PSWoo-CI Extenders.  It's a great second grid option for cooking high in the dome.  The Sliding D Grid is designed to slide back and forth along the Extender, providing a convenient way to access a drip pan, stone, lump or second grid underneath.
The D Grid's dimensions are configured on a 16" diameter grid with the short (flat) side measuring 14.5" deep. The D Grid matches up nicely with most large fireboxes for even heat distribution. The Grid's crosswires are approximately 1/2" on-center to better handle secondary cooks like veggies, foiled pouches and such.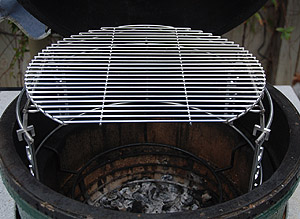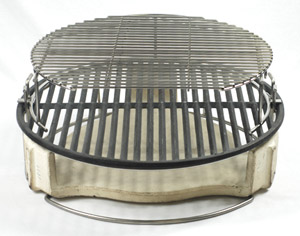 Set-Up (How to Use):  Position the D Grid atop the Extender so the Grid's two legs fall outside the Extender. The D Grid's two legs minimize side-to-side movement while the grid slides.  The straight edge on the D shaped Grid faces front.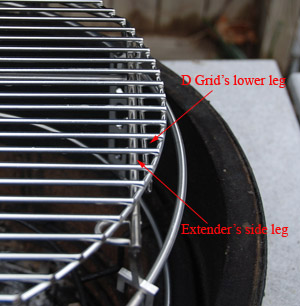 The Sliding D Grid moves back and forth very easily.  Using your fingers or a utensil, gently hold the middle edge of the grid's straight side and push back.  Depending on the grill, closing the dome will bring the Sliding D Grid back over (forward) the Extender. It won't take long before you'll become comfortable on sliding the D Grid back and forward.
 
Pictured below left, the D Grid is on the Large Adj. Rig and Rig Extender.  Pictured below right, the D Grid is on the PSWoo and Woo Extender. It's the same for the PSWoo-CI.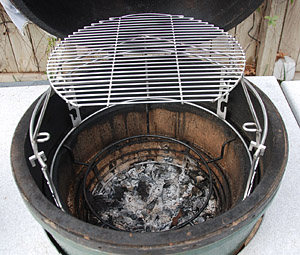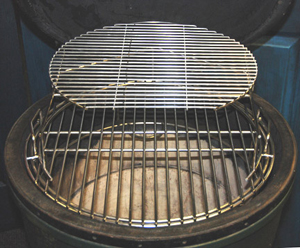 The Sliding D Grid can also be used on the Rig's Crossbars, as pictured below. The flat side of the D Grid provides an opening for dropping wood chunks into the lump.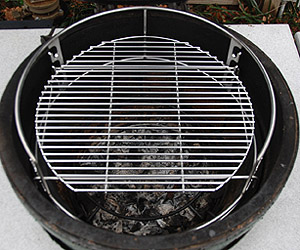 Please note: Care must be taken when moving the Sliding D Grid along the Extender, as there are no limitations on how far the D Grid can slide. Balancing the Sliding D Grid atop the Extender is dependent on several factors including but not limited to weight distribution on the Grid, how fast the Grid slides and how far the dome opens. Whenever possible, keep the D Grid's weight distribution slightly forward of center (toward the grid's flat edge).
The Sliding D Grid is fabricated using 304 EPQ Stainless Steel and is electro-polished for improved performance. The  EPQ wire and finish make it easier to clean the grid after each cook.
Made in the USA exclusively for CGS, Ceramic Grill Store.