Large Adjustable Rig Half Stone Hanger w/ Crossbar - Large BGE
Large Adjustable Rig Half Stone Hanger w/ Crossbar - Large BGE
The Half Stone Hanger works with the Large Adjustable Rig. The Hanger holds a 15" or 16" Half Ceramic Stone along the backside of the Rig. Great way to go indirect with the 9x18 Half Grid atop the Rig. Set-up for 1-1/2 Grid cooks with the Large EGG grid sitting on the fire ring. 
It's best to have the Half Stone right under the grid. This creates the most consistent temperatures over the grid above. With the Half Stone Hanger, distance between grid and stone is less than one inch. That is top of the stone to top of the grid.  
The set-up goes together quickly:
-  set the Crossbar in the upper,notches at the back of the Rig;
-  place the Half Stone Hanger over the Rig's upper ring with the Hanger resting on the Crossbar;
-  set the 16" Half Stone on the Hanger;
-  set a half or full grid atop the Rig.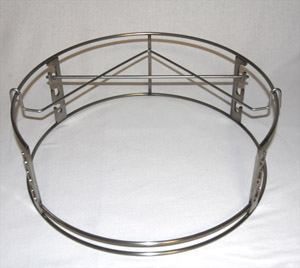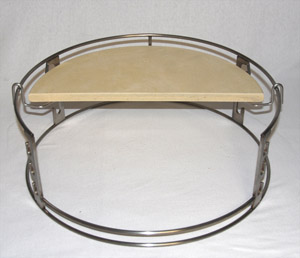 The Hanger works great for 1-1/2 grids. Pictured below right is the Rig sitting on the large cast iron grid.  It's a great set-up for searing steaks and having a warming/staging level above. This set-up works with the stock grid that came with your grill too.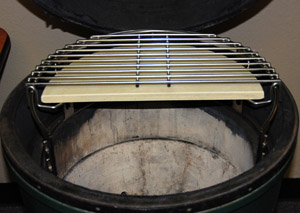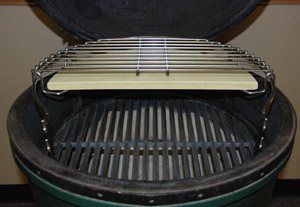 If you have the CGS 13"x17" Oval Stainless Grid, you can set-up with the lower grid elevated above the fire ring.  Pictured below is a cook where we moved brats and chicken between grids.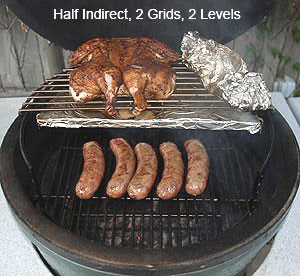 BJ's Country Market is your preferred shop in London, ON and area offering custom dry aged cuts, smoked meats, cold cuts, cheese, home cooked meals and much more!