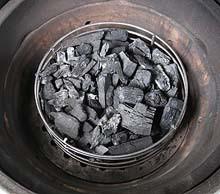 The Open Bar ring fits any grill with an 18" or larger cooking grid.  The Ring corals the lump and creates a fixed burn area.  It's a great way to shrink a big grill for small, quick cooks.  Also helps save lump.  
The open wall construction incorporates four 1/4" stainless rings that hold the lump in place.  The Open Bar Ring dimensions are approximately 14" in diameter and 3.5" high tall. The Reducing Ring works in tandem with the XL Spider and XL Woo to sear, blacken or wok closer to the lump.  The 14" diameter matches nicely with Big Green Egg's medium (15CI) cast iron grid for searing.
In comparison, the XL Open Bar Ring allows additional airflow from the side where the XL Solid Sheet Ring allows airflow thru the lower lump grate. The material is 1/4" Stainless round stock with mig/tig welds for improved durability.
Ceramic pieces shown are not included.  Made in the USA exclusively by CGS, Ceramic Grill Store.