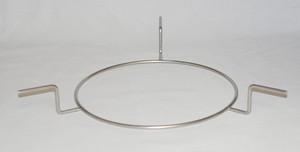 Designed to fit the 2015 Vision 23" XL Grill sold at Sams, Home Depot and other retail outlets.  Same basic functions as our BGE XL Spider.  The Vision XL Spider drops 2.25 inches into to the fire bowl.  The center ring holds our 16" wok for Asian style cooking.  Plus, the center ring holds our 16" diameter ceramic stone and 16" drip pan to create an indirect set-up.  Overall Spider drop is 2.25 inches.  Can be positioned down inside the fire bowl or up into the cooking area.  Made with 5/16 inch 304 stainless steel.  Leg welds are Tig welds for improved stability.  Made in the USA by CGS.
We recommend you verify the following measurements to insure the Vision XL Spider fits your Vision grill.
Overall Spider length, leg end to leg end, is 24 inches.  The inside diameter of your cooker at the felt line and at the top of the fire bowl needs to bigger than 24 inches.
To insure the Spider fits inside the fire bowl, the outside diameter across the leg drop is 18 inches.  The inside diameter of your fire bowl needs to be bigger than 18 inches.
To insure accessories (searing grids, stones, pans and woks) fit inside the Spider legs, the inside diameter from leg to leg is 17.375 inches.  Anything you want to sit on the XL Spider needs to be smaller than 17.375 inches.
All measurements are +/- 3/32".
DO NOT order this spider for the 24" Pit Boss. Order the Pit Boss Spider. See here.